NetSupport Manager continues to deliver the very latest in remote PC support and desktop management capabilities. From a desktop, laptop, tablet or smartphone, monitor multiple systems in a single action, deliver hands-on remote support, collaborate and even record or play back sessions. When needed, gather real-time hardware and software inventory, monitor services and even view system config remotely to help resolve issues quickly.
Designed to operate over your LAN, WAN or the internet, securely and without the need for firewall configuration, NetSupport Manager provides a single solution for remote support – without the need for a third party service or ongoing subscription costs. Adding to traditional 1:1 remote control capabilities, NetSupport Manager excels as a 1:many solution; from monitoring multiple systems in real-time, to showing the operator screen to multiple recipients for training, to file distributions across the network.
Over 23 years' development and 12,000,000+ PC install base = Industry recognised, the most stable, feature rich and secure Remote Control solution available.
NetSupport Manager provides the ability to support Windows, Mac, Linux and mobile devices all from a single console. Designed to operate over your network, via mobile communications or the internet, securely and without the need for firewall configuration, NetSupport Manager provides a single solution for remote support. Adding to traditional Remote Control capabilities, NetSupport Manager also provides a range of supporting tools to aid in support, including dynamic Hardware and Software Inventory reports, Systems Management tools, screen in real-time to any number of connected systems as an integrated training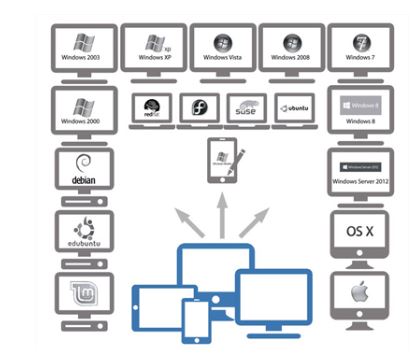 The IT enterprise continues to expand and evolve with the boundary between LAN, WAN and truly mobile now an almost seamless transition. As our dependency on technology grows, so does the operational impact of system downtime, or simply the time lost by not having instant access to key systems.
NetSupport Manager continues to offer a unique proposition for desktop remote control. One solution – available from your desktop, laptop, tablet or smartphone – that allows seamless and secure access to workstations and servers across your enterprise, both locally when in the office, and remotely when on the move.
NetSupport Manager provides all components as standard, including a unique "connectivity server" that can be deployed in minutes if you want remote support away from your WAN without boundaries, cutting edge mobile apps available to download for free from the Google and Apple app stores, and one clear proposition…
A one-time purchase for use across your enterprise; a one-time purchase for a permanent lifetime licence; a solution that doesn't require you to use or send your data via third-party servers, doesn't need remote hosting and doesn't charge you again and again with annual subscriptions.
Think Remote Control and you may think simple access to a remote PC screen; think NetSupport Manager and enjoy true multi-platform remote control, file management, inventory management, PC diagnostics, audio and screen collaboration, interactive training tools, geolocation and much more.
Think Remote Control and you may think one-to-one; with NetSupport you can monitor and view dozens of devices in a single view, automate activities, group by location, platform, device type and so much more. That's why, after 20 years of evolution, NetSupport remote control technology is now deployed on over 12 million computers around the globe.
Please see our features page from the menu above for our key highlights, then review a full list of features available for each platform and finally, download a free 30 day fully-featured evaluation copy to see the NetSupport difference.
NetSupport Manager 12 is available fully localised in English, French, German, Spanish, Italian, Dutch, Brazilian Portuguese, Japanese, Chinese and Polish. NetSupport Manager is consistently voted 'best of breed' by the leading IT publications.