InterCLASS Cloud
The Most Popular Cloud-Based Classroom Management Solution in Japan Task. 
InterCLASS Cloud simple classroom orchestration software is now available on Chromebooks and Windows devices. It keeps students engaged and learning in a safe digital environment wireless cart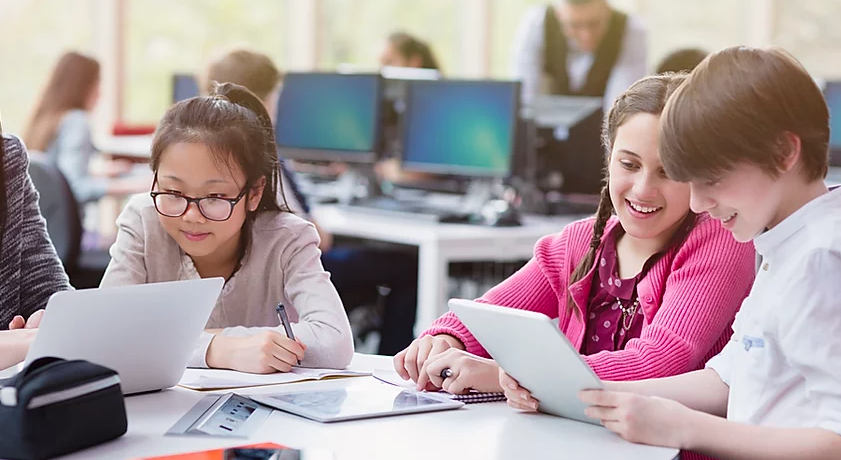 Created for Busy Teachers in Order to Keep Students on Task.
Exclusive Cloud-based classroom management software for every teacher that needs to keep students on task with Chromebook classrooms or wireless carts.
Engaging Student Learning
InterCLASS Cloud provides the simplest way to show the teacher screen directly to student monitors, so that your lessons are more engaging for overall student learning.
Creates a synchronous learning experience between teachers and students when information can be shared in real time.
 

Make the most out of all Google for Education Apps to provide exciting and dynamic content through Google Classroom to share via Screen Demo with your students.
 

Helps students to focus on the content that is being presented on the screen in front of them to alleviate any confusion with assignments. Is also beneficial for students with sight impairment that have trouble seeing the projector screen or display monitor.
Full Screen Monitoring of Student Chromebooks
InterCLASS Cloud can help with student accountability for classwork and increased performance with class objectives.
View student screens as thumbnail images for a quick overview glance of on-task work or click on individual students for full screen monitoring that includes all Apps, not just the browser window. Screens can also be captured for disciplinary action.
 

Display/project all student thumbnails during lecture periods, independent study, group work activities and classroom transition times which are normally when students become off task. Can also be used in tandem with more extensive monitoring/filtering programs that schools already utilize.
Lock and Unlock Student Screens
You'll love how InterCLASS has the necessary tools needed to bring student attention back to you in a timely manner.
When class time gets a bit hectic or teachers would like to focus student attention back to the assignments at hand, they can lock all student screens or those of individual students. Unlock allows them to repurpose their focus and to let loose and explore!
 

Have the ability to message everyone to make general tasks or statements or as a time reminder on a specific assignment task. It's also great for opening dialog with a struggling student or to discreetly tell individual students to stay on task without embarrassing them in front of the class.
Control 
Student
 Web Browsing
As we all know, not all websites benefit student learning equally, so let InterCLASS help you to direct them to where they need to safely go online to maximize learning.
Quickly stop access to the Internet for either the entire class or individual students with a one button click in real time. No need to pre-plan Internet usage activity when class is in session. Can also be used while students are taking online exams.
 

Have the ability to create a whitelist of approved websites that students can access during class time.
 

Send URLs directly to each student, which saves valuable class time and avoids students incorrectly typing in the wrong web address. This feature is also great for non-verbal redirection of task browsing.
Live Teacher and Students Video*
Via integration with free Google Meet, Zoom or Webex, Teacher will have live video conversation with all the students during class session
Why you still need InterClass Cloud where there is free Google Classroom and Google Hangout and etc ?
Many teachers are trying to figure out how to teach with remote learning. If your school has Google tools and Chromebooks for students, then InterCLASS Cloud could be used as an additional service to check worksheets, call attention to errors and taking note of good work being done (Monitoring Student Progress during Remote-Learning).
Want to know more about InterCLASS Cloud?
Wish us to do a live demo?
Wish to have a trial account?